During the 2nd world war, the Hungarian Royal Air Force consisted mostly of German and Italian planes, either imported or licence build. Especially at the later stages of the war, these planes wore mostly used with the camouflage scheme they were delivered in. Hungary did however develop it's own camouflage schemes. The paints were produced by E. Krayer and Co. Paint, Daub and Varnish Factory from at about 1938 onwards. Their shades were inspired by and extremely similar to German paints. G.1101 is almost identical to RLM 65, but the upper surface camouflages appear more vibrant and slightly lighter.
Research into these paints is still being done, with different sources citing different shades for colours.
Disclaimer: As with all pages of this type, the colours shown are an approximation. Monitors can change the colour displayed and don't account for shading and glossiness. In reality these colours would also fade over time, and different batches could deviate quite a bit from the 'official' colour.
 
Colour
equivalents
Gunze
Tamiya
Vallejo
Hataka
G.1100
stone grey
RAL 7005
FS-36187
 
 
71.049
HTK-*335
upper side camouflage
G.1101
light blue
RLM 65
FS-35352
H-067
C-115
N-067
S-115
XF-23
71.225
HTK-*029
underside camouflage
G.1102
earth brown
RLM 61
RAL 8019
FS-30040
 
 
71.882
HTK-*195
(HTK-*168)
upper side camouflage. The colour is also interpreted as the more bright FS-10049 by some
G.1103
dark green
RAL 6002
FS-34096
RLM-62
 
 
71.968
HTK-*196
(HTK-*169)
upper side camouflage, either solid or in combination with G.1102, G.1100 or experimentally H.1795
G.1114
Red
 
H-013
XF-7
 
 
Hungarian flag insignia
G.1115
White
 
 
XF-2
 
 
Hungarian flag insignia
G.1116
Green
 
 
XF-26
 
 
Hungarian flag insignia
H.1795
earth yellow
ochre
RAL 7028
FS-33440
RLM 69
H-058
 
70.978
HTK-*197
(HTK-*310)
experimental upper side camouflage
C.28/A
black
 
 
XF-1
 
 
Roundel, identification markings
C.54
yellow
 
 
XF-3
 
 
identification markings, spinners
Camouflage schemes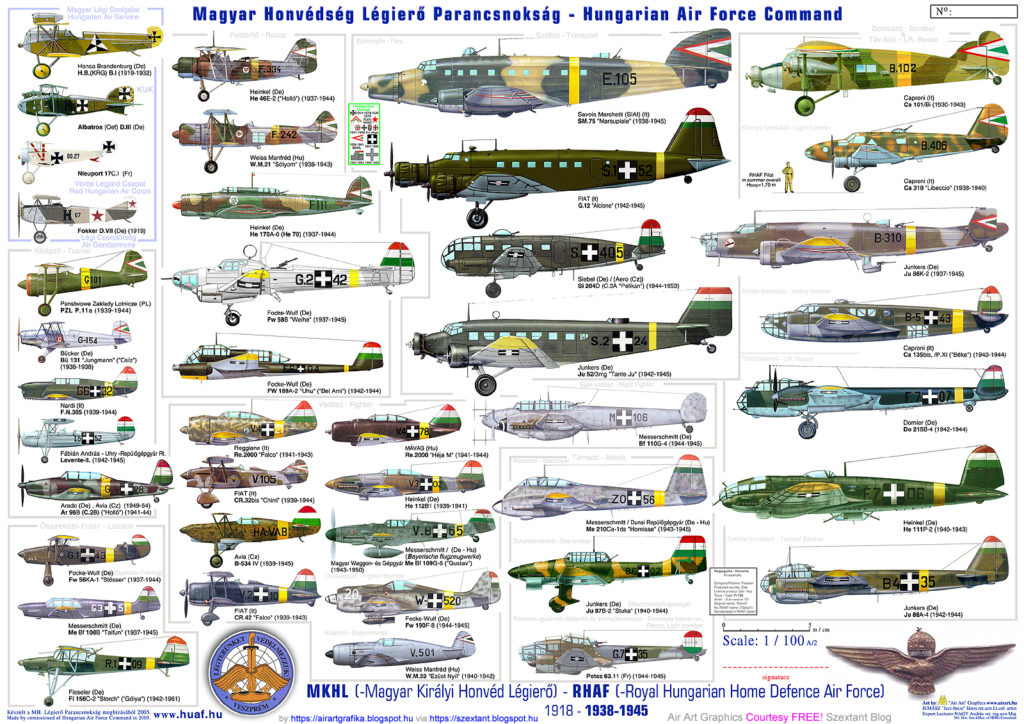 In 1938 Hungary decided to unify their aircraft camouflages. Near the end of the year the Krayer company started supplying the paints for this endeavour. The exact pattern wasn't set yet and would finalize over a period of time. This camouflage was abandoned around 1942, when planes were left in their original camouflage.
1938-1939 Green/brown mottle
Starting October 1938, some aircraft including Fiat CR.32, started to be repainted with the new camouflage colours. These machines were mottled over with G.1102 brown and G.1103 green, still showing their original aluminium or light grey camouflage underneath. Apparently here was no uniform, regulated pattern and camouflaging was left up to the creativity of the painter.
Grey-Brown-Green over Blue scheme
In addition to the brown and green colour, grey and blue also appeared and by the summer of 1939 the camouflage pattern had set on a wavy four tone camouflage. It consisted of G.1100 grey, G.1102 brown and G.1103 green in a wavy pattern. The underside was painted in G.1101 light blue.
this scheme was used mostly on early war machines, such as the Heinkel He 112 and Fiat CR.32, but was also experimentally used on the Bf 109. It however fell out of use during the introduction of the cross style roundel in 1942.
H.1795 yellow
In addition to the aforementioned three upper camouflage colours, Krayer also supplied a yellow colour. While this colour is often shown on Ju-86 bombers, in reality this was most likely grey. H.1795 itself was seldom used. It is very similar, if not the same as the scheme used on Hungarian tanks of the time.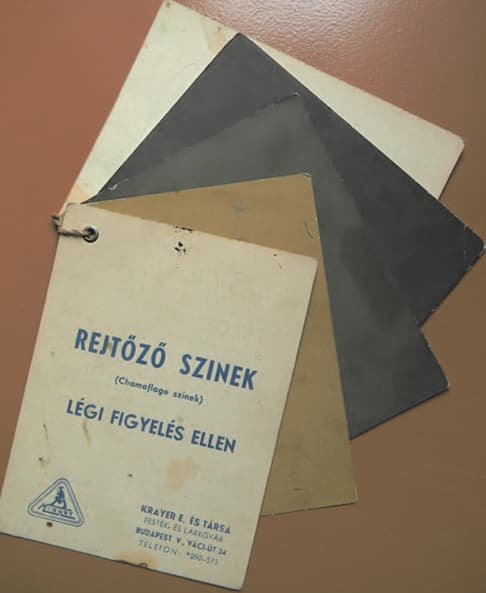 Roundels
Chevron

1938-1943
After the Hungarian air force became independent from the army, it needed a new roundel. This became the chevron roundel, applied to the tail (middle) and wings (on 7/8th length of the wing), pointing forward. If the plane had multiple tails, it was only painted on the outermost surfaces. Measured along the base, the ratio is 1/8 red, 5/8 white 1/4 green. (Decree № 30.418/1938).
While the chevron was officially phased out in 1942 in favour of the new cross, it was still being applied in limited quantities as tail flash in combination with the German Balkenkreuz. This due to miscommunications or misinterpretations of the regulations.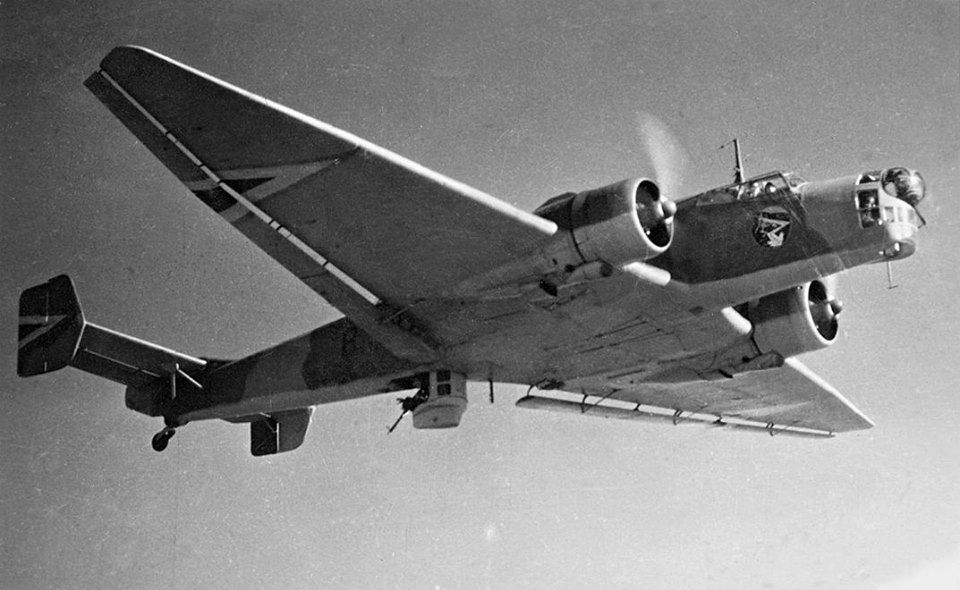 Cross

1942-1945
 
 
 
Roundel
Tail Flash
Standard markings of the Royal Hungarian air force. During the war against the Soviet Union in 1941, the chevron marking was found to be difficult to spot, resulting in friendly fire by German pilots. As a solution, a new roundel was implemented in 1942.
The size of the white cross was not defined and would widely vary between aircraft. Sometimes only the black outline was painted, showing the camouflage within the cross. The white part was also sometimes painted over to reduce visibility. In other cases the cross wasn't bordered by black at the sides
The tail and stabilizers would often feature the Hungarian flag, to keep the national identity as the roundel was pretty much the inverted German Balkenkreuz.
Misinterpreted roundel

1944
Wrong marking painted on some German imported aircraft due to misinterpretation of the regulations. As the roundel based around the inverse of the German Balkenkreuz, the instructions were sometimes misinterpreted as a complete inverse, without the additional black fillings.
Alternate proposal

1941
Alternate roundel proposal for replacement of the chevron. (decree № 59.120/ 1941). Experiments however showed the roundel to be difficult to recognize. No photo's of these experiments are known.
Sources:
Dénes, B. and György, G. (2013). Hungarian fighter colours 1930-1945 (Vol. 1 & 2, White Series). MMPBookes. ISBN 978-8361421719 & 978-8363678210
Dénes, B. and György, P., 2014-2015. "Magyartarka" – Lakkok, festékek, álcázószínek a Magyar Királyi Honvéd Légierő repülőgépein. Published in six parts in Haditechnika; 2014/4, 2014/5, 2014/6, 2015/1, 2015/2, 2015/3.
Dénes, B. and György, "Magyartarka" testközelből, part 1 http://epa.oszk.hu/03000/03005/00048/pdf/EPA03005_MKL_2020_04_129-131.pdf, part 2: http://epa.niif.hu/03000/03005/00049/pdf/EPA03005_MKL_2020_05_162-165.pdf
Egyéb, 2015. The Fighter Colours Of E. Krayer And Co. Paint, Daub And Varnish Factory. Hungarianfightercolours.com. http://hungarianfightercolours.com/the-fighter-colours-of-e-krayer-and-co-paint-daub-and-varnish-factory [Accessed 13 August 2020].
Heimer, Ž., 2001. Hungary – Air Force. Fotw.info. https://fotw.info/flags/hu-air.html [Accessed 13 August 2020].
Kovács, B., P., 2017. A hadijelzések és a terepszínű festés kialakulása a magyar királyi honvéd légierő vadászgépein. Katonai Logisztika 2017/1-2, p 184-219